Illinois vs. Michigan - Showdown in Champaign!
We're filling a bus and heading to Assembly Hall to cheer on our Illini to victory over Michigan. Bring friends and family. It's sure to be a blast. EXCLUSIVE: Pre-Game Reception with special guest, just prior to game at Alumni Hall.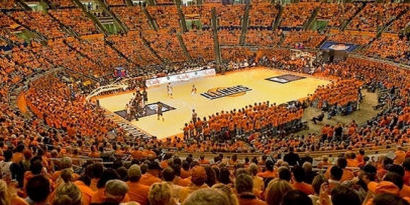 Illinois Men's Basketball would like to invite you to attend their game against Michigan at 5:00 p.m. on Sunday, January 27.
REGISTER now even if you have tickets but you want to attend EXCLUSIVE Pre-Game Reception.
Bus Trip, Ticket & Exclusive Pre-Game Reception - $70 (still tickets left)
Bus Trip & Exclusive Pre-Game Reception (No Ticket) - $30 (still space available on bus)
Direct additional questions to illini_91@mediacombb.net or for group accomodation requests. Go to DETAILS for more information.