Northwest Illini - We are Illinois...and We are Great
Talking Facts and Fiction about Admissions, Costs and our Employee Population.
Join Matt Wszolek, Senior Executive of Marketing & Media for Illinois, to get all your questions answered about marketing our The University of Illinois.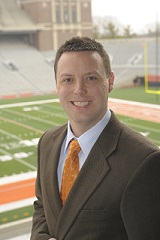 Matt Wszolek

Join us for lunch and find out:
The percentage of Illinois majors ranked in the Top 25,
The percentage of Illinois applications accepted,
The factors that Illinois considers, besides test scores,
The average starting salary for Illinois graduates,
The ranking of the Illinois Alumni Association in the world.
11:30 - 12:00: Registration
12:00 - 1:00: Program Begins & Lunch
Cost:
LUNCHES WILL BE BILLED SEPARATELY.
Engage with alumni, friends and associates,
Promote yourself, your personal or professional interests,

Connect with others to grow your Illini network,
Be on the cutting edge of University of Illinois and Alumni news and events.

Come for what we can give you | Stay for what you can give back