SOUTH SIDE ILLINI spotlight: David Dorgan
president, urban innovation solutions
---
About David Dorgan: From his Political Science Degree, to Planning and Economic Development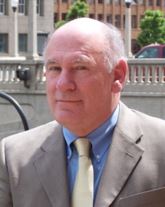 David Dorgan has worked across the board for units of government, non-for-profits, and private sector clients. David's consulting includes development efforts of the private sector with tax increment financing, public sector with downtown master planning, intergovernmental agreements, and formulation of economic incentive packages along with non-for-profit development services.
In his professional career Mr. Dorgan has participated in developing and managing 13 Tax Increment Districts, one Enterprise Zone and one Rivers Edge Zone. He helped communities receive more than $100 million in grants and other government money and negotiated more than 30 redevelopment agreements .
Mr. Dorgan's accomplishments include:
Major influence in Tinley Park being awarded the U.S. Department of Commerce's Best Economic Development Organization of 2006Negotiated the Fisher Nut relocation to Elgin creating 1,100 jobs

Management of the I-80 corridor development, downtown redevelopment and oversaw the creation of the Tinley Park Convention Center.

Oversight to portions of Elgin's downtown redevelopment

Creation and layout of a new growth strategy for 21,000 acres
After retiring from 25 years of Illinois City Management, Mr. Dorgan formed his own company in 2005 to allow him to do what he likes to do best: economic development.
---
Where: Tribes Alehouse and Grill | When: October 15th, 6:00pm - 8:30pm | Cost: No Charge
Do YOU know of an ILLINI SPOTLIGHT? Let us know
---
Why Should You Attend in October:
You're interested in hearing what attracts companies to new towns

You want to find out about urban planning

You have aspirations of economic development

Would like to be an Illini Mastermind (or know of one)

You'd like to ask Dave how economic decisions are made

Want to learn more about The Suburban Illini Club?
We look forward to seeing you.

Ways to Stay in Touch with The Suburban Illini Club
Want Event Updates and Notices? Like & Follow us on Facebook
Connect and Grow Your Illini Network? Join us on LinkedIn
Instant Reactions, Comments or Conversations? Follow us on Twitter
ILLINOIS

IN THE NEWS
Cowbird Monogamy
Cosmos (Sydney, Oct. 1) – In a seven-year study led by animal biology professor Mark Hauber of the U. of I., researchers found that 75% of cowbirds – nest parasites that lay their eggs in nests of other species – are monogamous during any given breeding season. "These birds are emancipated from the costs of needing a mate to take care of the young, and yet they are engaging in monogamy," Hauber says. "It's the opposite of what you would predict by theory."
more
When:
6:00PM Tue 15 Oct 2019 - 9:30PM Fri 18 Oct 2019 ( Timezone: Central )

Where:
Tribes Alehouse and Grill
9501 W 171st St
Tinley Park, IL 60477
[ Get Directions ]
RSVP Here...